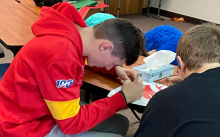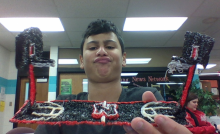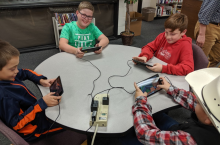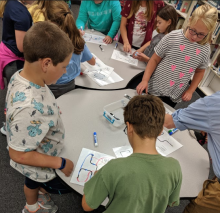 February, 2020
This year Dr. Nick Ziegler is at Meridian Public Schools every Monday to develop and implement a Makerspace curriculum for students in grades K-8. 
While most of our districts are doing well engaging students with low tech / no tech Makerspace experiences (example: straw bridge building challenges), we sometimes struggle with the higher tech experiences. 
The purpose of ESU 5's Makerspace outreach is to help establish those higher technology-enhanced Makerspace activities, either tied directly to classroom instruction or as standalone Media Center Makerspace experiences. 
Activities are designed to take students roughly 30 minutes to complete:
Coding with Ozobots, MicroBits, Circuit Playgrounds

Robotics with Parrot Drones, mBots

Computer Assisted Drafting Fundamentals with 3D Printer Pens, 3D Printers, Cricut Machines, Minecraft

Video Game Design with Bloxels

Electronics with Snap Circuits, Valentines Day Cards

Force with ESU 5 PinBall Machine & ESU 5 Wooly Willy Table
The Buzz at Meridian around Makerspace in K-8 this year has overspilled into 9-12 as well. High School students have created Holiday Ornaments using 3D printer pens, vinyl stickers using the Cricut machine, and multiple projects on a 3D printer.
The desire is to pilot these experiences this year in Meridian and expand access to them next year across all our districts. For more information, contact Nick at nziegler@esu5.org.