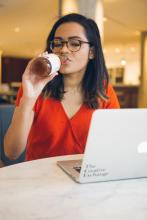 September, 2018
Over the summer months the ESU 5 IT Department worked to migrate all ESU 5 schools over to the new SNDLC WAN network utilizing Unite Private Networks fiber.  The new system adds redundancy, speed, and greater capacity by utilizing 10 Gbps optics and a ring topology on the core. Internet bandwidth was upgraded to 2.5 Gbps and transport into Network Nebraska was upgraded to a 10 Gbps connection.  
As ESU 5 works to improve the network for all of our districts we are also focusing on providing better Internet access equity for all students outside of the normal school day.  We have had success utilizing TV White Space technology to bring up multiple "Homework Hotspots" across Beatrice to allow for after school Internet access for students to help bridge the homework gap.  All of this was made possible by a grant through the Beyond the Walls program that we won last year.  
We applied for another grant through the Mozilla foundation using a similar "Homework Hotspot" proposal using TV White Space and made it the finals where we were invited to present live at the Mozilla Headquarters in Mountain View, California on August 14th.  We were one of 7 that were chosen to present in the Smart Community Networks Challenge out of hundreds of submissions across the US. The top prize for this grant is $400k, second is $250k, third $100k and fourth is $50k. We are eagerly awaiting to hear who the winning teams are from the live demonstrations.  More information on this will follow the announcement from Mozilla.