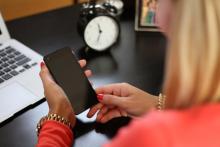 April, 2019
When it comes to revolutionizing learning, collaboration is key! As such, Nebraska's ESU Teaching and Learning with Technology (TLT) group, in partnerships with Educational Service Unit #5, ESU Coordinating Council, and NCSA, is sponsoring two statewide projects to support collaboration, design, and sharing. The projects, Digital Age Skills and BlendEd Best Practices, will provide a framework for teachers to explore, create, and share blended and personalized teaching practices. See details in the chart below: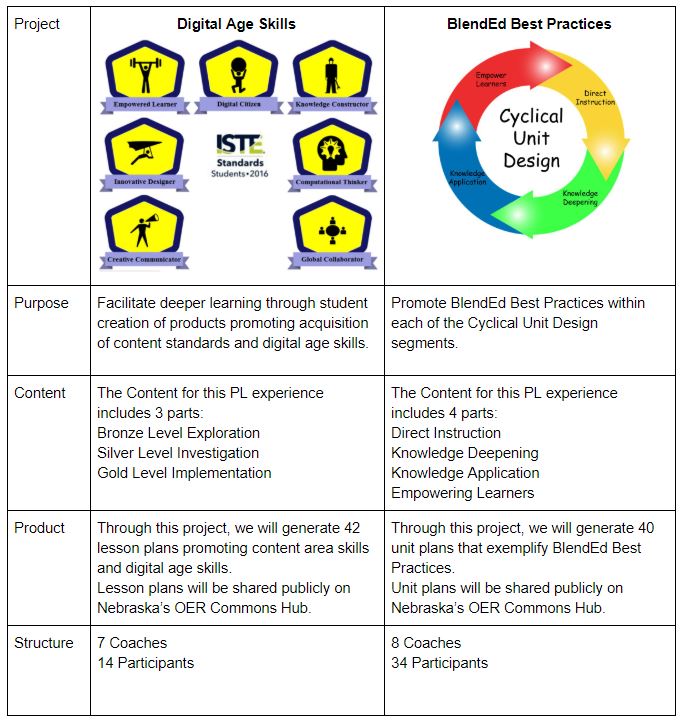 The goal of both projects is to harness the momentum of the of the BlendEd Pilot, sponsored by NCSA and ESUCC, which is currently in its third year of implementation, as well as spur content creation in the Nebraska OER (Open Education Resources) Commons Hub. To access the hub visit: https://www.oercommons.org/hubs/nebraska. In addition to supporting the AQuESTT Tenet of Educational Opportunities and Access and Future Ready Nebraska efforts, the two projects align with Nebraska State Board Goals: 
Goal 1.1 – By 2018, the NDE will be organized through personnel and processes to provide leadership in school support systems, regulations, interagency collaboration, data systems, fiscal responsibility, and evaluation that will enhance the success of educational systems in Nebraska.

Goal 1.3 – By 2020, 100% of teachers, service providers, school leaders and local school board members will have access to quality professional learning opportunities through an NDE facilitated professional learning directory.

Goal 4.1 – By 2020, NDE will develop a statewide digital course and content repository.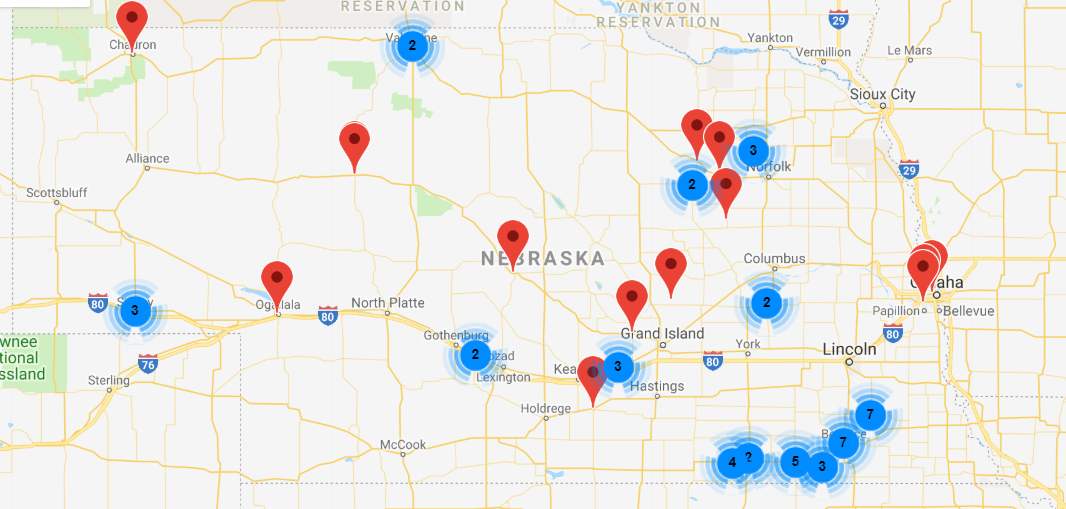 The power of the project is the statewide network. Teachers from across Nebraska will serve in one of two roles: participant or coach. The map reflects the location of the teachers working on the project. All NCSA Regions are represented. The red pins are location of single teachers with the blue dots represents multiple teachers from a school or community. Within this network, participants will submit products in the form of planning documents, lessons, and student creations that support either ISTE Standards and/or BlendEd Best Practices connected to Cyclical Unit Design: Direct Instruction, Knowledge Deepening, Knowledge Application, and Empowering Learners. These products will go through a cycle of revision between participants and coaches and will then be added to the Nebraska OER Commons Hub in the Summer of 2019. Educators across the state, regardless of their involvement, will have access to these NE standard-aligned materials. 
In the spirit of "sharing is caring" both projects will provide those participating with opportunities to learn, collaborate, create, and share. Through these teacher leaders, TLT will ignite and promote a culture of collaboration and sharing wherein Nebraska teachers have access to ideas and best practices to use in their classrooms. 
The support of administrators and commitment to the innovation of teaching and learning is appreciated. Look for the outstanding products that will be created by outstanding Nebraska educators! If interested in learning more, visit the website: bit.ly/esuccproject

Article was published in both the NETA News and NCSA Today.